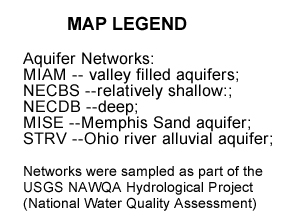 U.S. Geological Survey has detected PFAS in public and private drinking water wells in 16 Eastern states – Alabama, Florida,
GEORGIA
, Illinois, Indiana, Kentucky, Massachusetts, Maine, Mississippi, New Hampshire,
OHIO,
Pennsylvania, Rhode Island, South Carolina, Tennessee and West Virginia
.
Locations of aquifer systems and well networks. Wells shown with white symbols indicate that PFAS were not detected, and those shown with other colors indicate that PFAS were detected. Image courtesy USGS
"In 2019, 254 samples were collected from five aquifer systems to evaluate perfluoroalkyl and polyfluoroalkyl substance (PFAS) occurrence in groundwater used as a source of drinking water in the eastern United States. The samples were analyzed for 24 PFAS...Fourteen of the 24 PFAS were detected in groundwater, with 60 and 20% of public-supply and domestic wells."
Peter B. McMahon, et al, Perfluoroalkyl and Polyfluoroalkyl Substances in Groundwater Used as a Source of Drinking Water in the Eastern United States, 2022.
The contamination of groundwater with PFAS is a concern in many countries because they persist in the environment, sources are widespread, and some are known or suspected to be associated with adverse human health effects. Moreover, PFAS in the unsaturated zone can be sources to underlying groundwater systems for decades.
PFAS, the 'Forever Chemicals' – What are they?
Substances known as PFAS Chemicals, constitute a family of chemicals that are widely used to make water-resistant, grease-resistant and stain-repellent coatings, as well as firefighting foam. PFAS are used in the aerospace, automotive, construction, electronics, and military industries.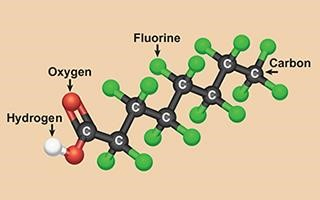 PFAS molecules are made up of a chain of linked carbon and fluorine atoms. Because the carbon-fluorine bond is one of the strongest, these chemicals do not degrade in the environment. Perfluorooctanoic acid (POFOA) and perfluorooctane sulfonate (PFOS) are the most widespread in the environment. Although these two compounds are no longer manufactured in the United States (but still in other parts of the world), chemical manufacturers have replaced them with alternative PFAS such as GenX - Source NIH National Institute of Environmental Health
PFAS are among the most persistent toxic compounds in existence, contaminating everything from drinking water to food, food packaging, and personal care products.
"PFAS were frequently detected in groundwater affected by modern human activity," lead author USGS Scientist Peter McMahon told WT.
Why does it matter?
According to the Agency for Toxic Substances and Disease Registry (ATSDR), there is evidence from human and animal studies that may lead to: increased cholesterol levels, changes in liver enzymes, small decreases in infant birth weights, decreased vaccine response in children, increased risk of high blood pressure or pre-eclampsia in pregnant women and increased risk of kidney or testicular cancer.
Conclusions of the USGS Study
"Our modeling efforts found significant relations between PFAS detections and several chemical and land-use variables, indicating it may be possible to predict PFAS detections in water wells using data sources already available. Such a model could be used for instance to predict PFAS detections in unmonitored areas.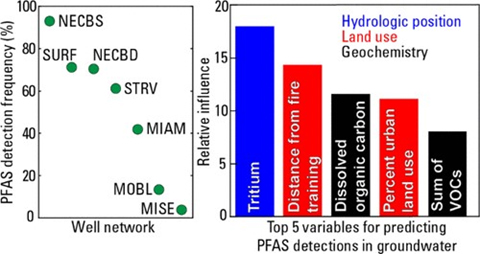 Concentrations of tritium, chloride, sulfate, DOC, and manganese + iron; percent urban land use within 500 m of the wells; and VOC and pharmaceutical detection frequencies were significantly higher in samples containing PFAS detections than in samples with no detections.
Boosted regression tree models that consider 57 chemical and land-use variables show that tritium concentration, distance to the nearest fire-training area, percentage of urban land use, and DOC (Dissolved Organic Carbon) and VOC (Volatile Organic Carbon)concentrations are the top five predictors of PFAS detections, consistent with the hydrological position, geochemistry, and land use being important controls on PFAS occurrence in groundwater.
Model results indicate that it may be possible to predict PFAS detections in groundwater using existing data sources.
"We hope the data will be of use to other researchers and to water users, suppliers, and regulators who are concerned about PFAS contamination in groundwater," McMahon said.
The U.S. Geological Survey has several ongoing PFAS research efforts that will expand their studies to new areas in the U.S.
suzanne.f@watertoday.ca