833.344.1114
info@wtga.us
November 29, 2023


Features





FLOW ALERTS: Imminent risk of flood or active flooding



As WTGA brings on our new free subscription SMS water alerts system, streamflow alerts tagged on our map are changing. Where WTGA has previously tagged high and low flows above the 90th percentile, future flow alerts narrow that focus to only those rivers and creeks at immediate risk of flooding and/or actively flooding. Likewise, extreme low flow conditions will be tagged on the map and sent as alerts for drought stress.

For those looking for current streamflow rates below the 99th percentile, these can be found at USGS Waterwatch online data portal https://waterwatch.usgs.gov
Select Current Streamflow from the left side menu, select Georgia in the center drop down menu.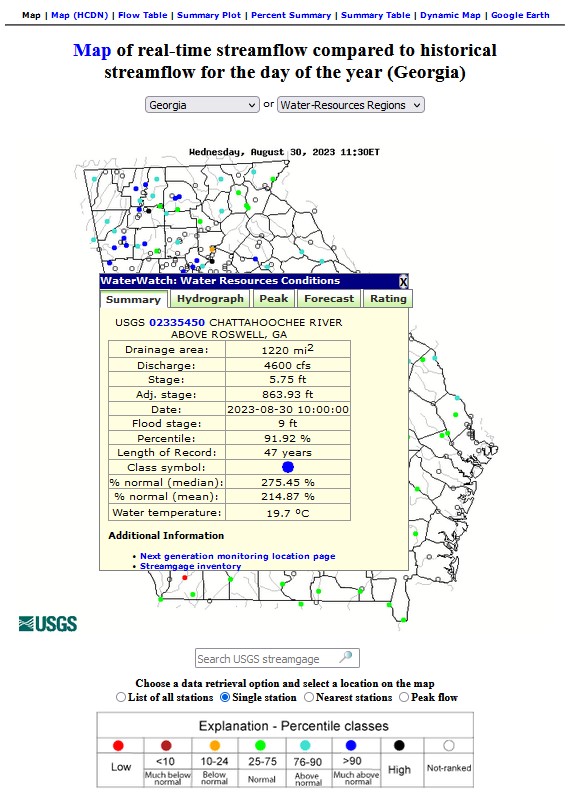 Here you will find rated and unrated flow monitors throughout the state. Rated monitoring sites are color-coded orange, red and yellow indicating low, much below and below the historical average flow volume for that specific day over many years of observation. Green and bluegreen indicate normal and above normal flow volume, with the blue and black indicating much above normal and high flow rates, above the 90th percentile.

Click on a specific location tag to open the detail window for that monitoring station.
Here you will read the station name and ID number, the upstream area in square miles drained by the particular river or creek to that location. You will read the flow volume given in cubic feet per second, and the depth (gage) of the water at the monitoring station. An important piece of information given for some stations is the flood stage. This indicates the depth at which the channel will overflow. Action stage is the point at which alerts are sent out, warning subscribers to prepare for flooding.



A blue tag on the map still indicates high flow, defined at 99th percentile.
The black tag indicates rivers and creeks actively flooding.



Additional information supporting flow alert tags on the map appears when you click the Flood button to the right of the map.


All rights reserved 2023 - WTGA - This material may not be reproduced in whole or in part and may not be distributed,
publicly performed, proxy cached or otherwise used, except with express permission.